Wefund is a leading solution provider for Developers and Lenders that leverages technology,
data and experience to deliver the most transparent and competitive solutions
in the market – there's no better way to experience property & development finance!
$2 Billion
In Loans
Processed


Advisory
Dedicated Credit
Manager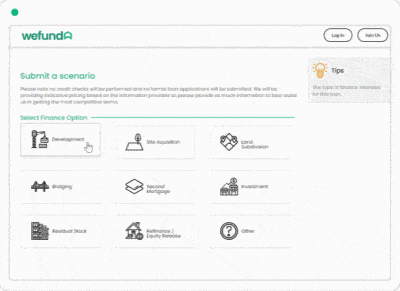 Industry leading technology
that you can trust
Wefund's proprietary technology delivers unprecedented insights and transparency giving confidence to both Developers and Lenders that ultimately delivers the best solutions and competitive pricing available in the market.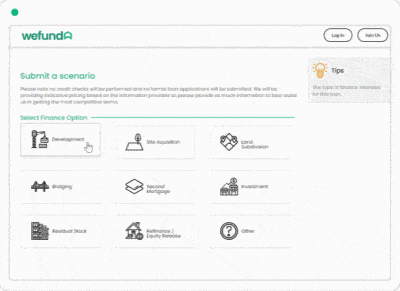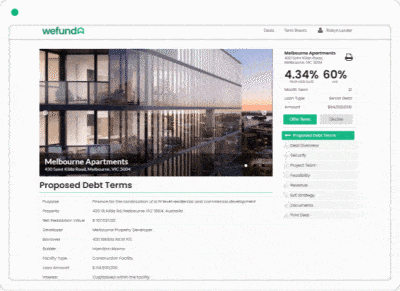 Advanced financial modelling – making better decisions
Wefund leverages the efficiency of technology and the experience of people to deliver multiple loan and debt structures. In an effort to avoid unexpected surprises, you will be provided with transparent comparisons of actual funding costs from multiple lenders where you can choose to work towards profitability, lower costs or return on equity.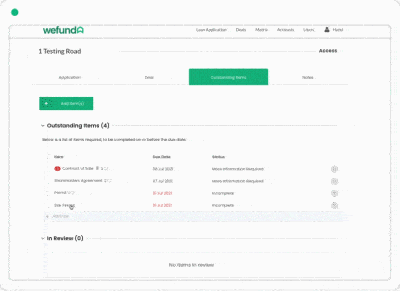 There's no better way to experience property & development finance!
Yes, we get the fastest settlements in the industry! But that's not all… Your dedicated Credit manager will handle everything so that you can enjoy a smooth and friction free experience. We'll engage valuers, builders and quantity surveyors then liaise directly with Lenders on your behalf. Our system digitally manages the settlement process so you don't have to. There is truly no better way to experience property and development finance!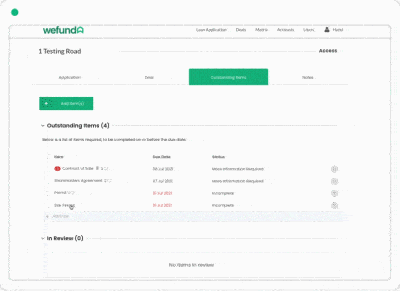 How We Achieve The Best Results 
Wefund enables Developers to get more control and acquire the best financing terms

Low presale
options
Our accredited panel of 70+ Lenders allows us to find funding solutions with lower presales.

Increase your LVR
Bigger banks prefer safer and sometimes unreasonable LVR requirements. Here at Wefund we can fund you when the others won't.

3x Faster than
traditional finance
Our innovative platform allows us to fund you 300% faster than traditional banks. Switch to Wefund and enjoy fast and transparent financing.

Construction /
Development







Refinance / Equity Release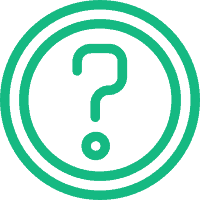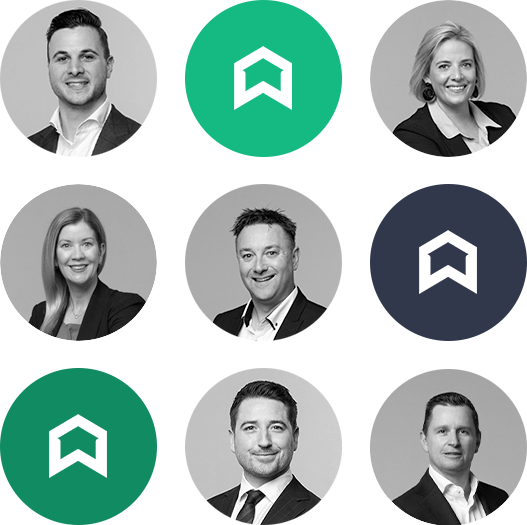 Meet your experienced Finance Team guiding you to secure the best deal!
This is more than just finance. Our team of finance professionals #1 mission is to ensure you understand your finance terms and choose the best terms for your projects profitability. We offer free feasibility analysis on every development and can help you to put in less and get more profit out of every development.
We have a diverse
range of Lenders wanting to fund your project…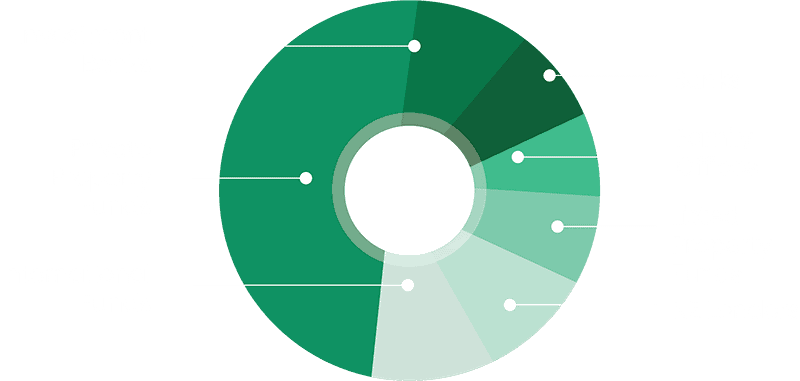 | | | |
| --- | --- | --- |
| | | Others |
| Team of finance experts | | |
| Load offers compared and explained | | |
| Free feasibility analyses | | |
| Proprietary technology | | |
| End to end platform to manage your finance | | |
| Manage settlement on your behalf | | |
| Assistance with valuations & QS reporting | | |
Some Projects We've Funded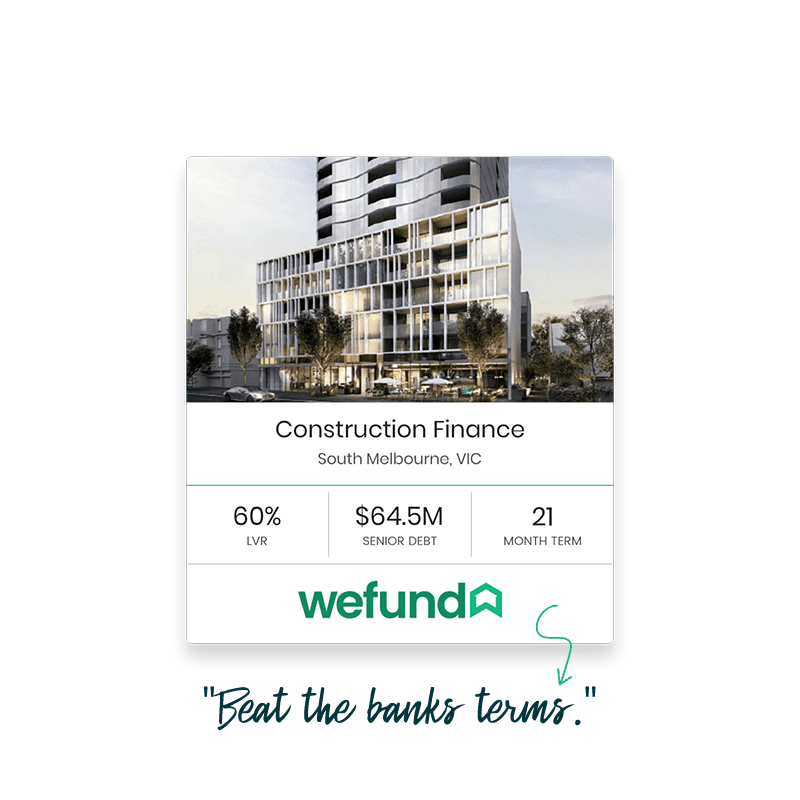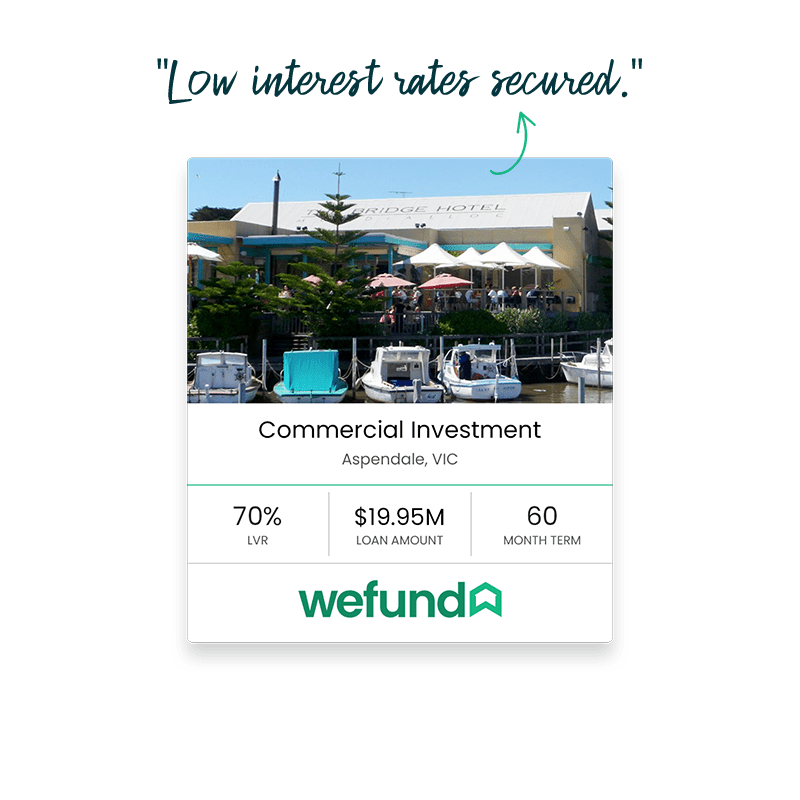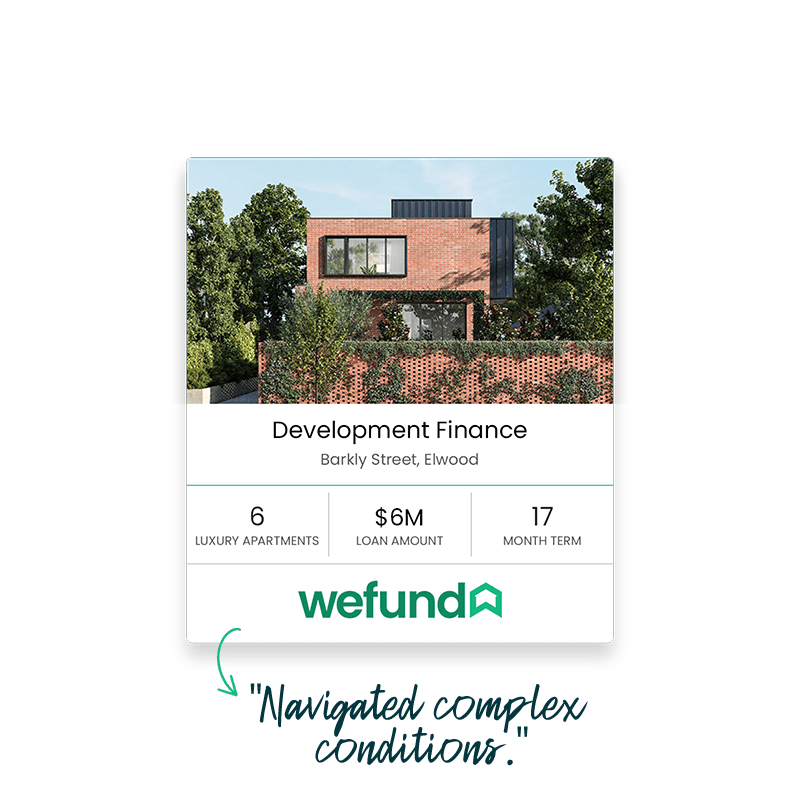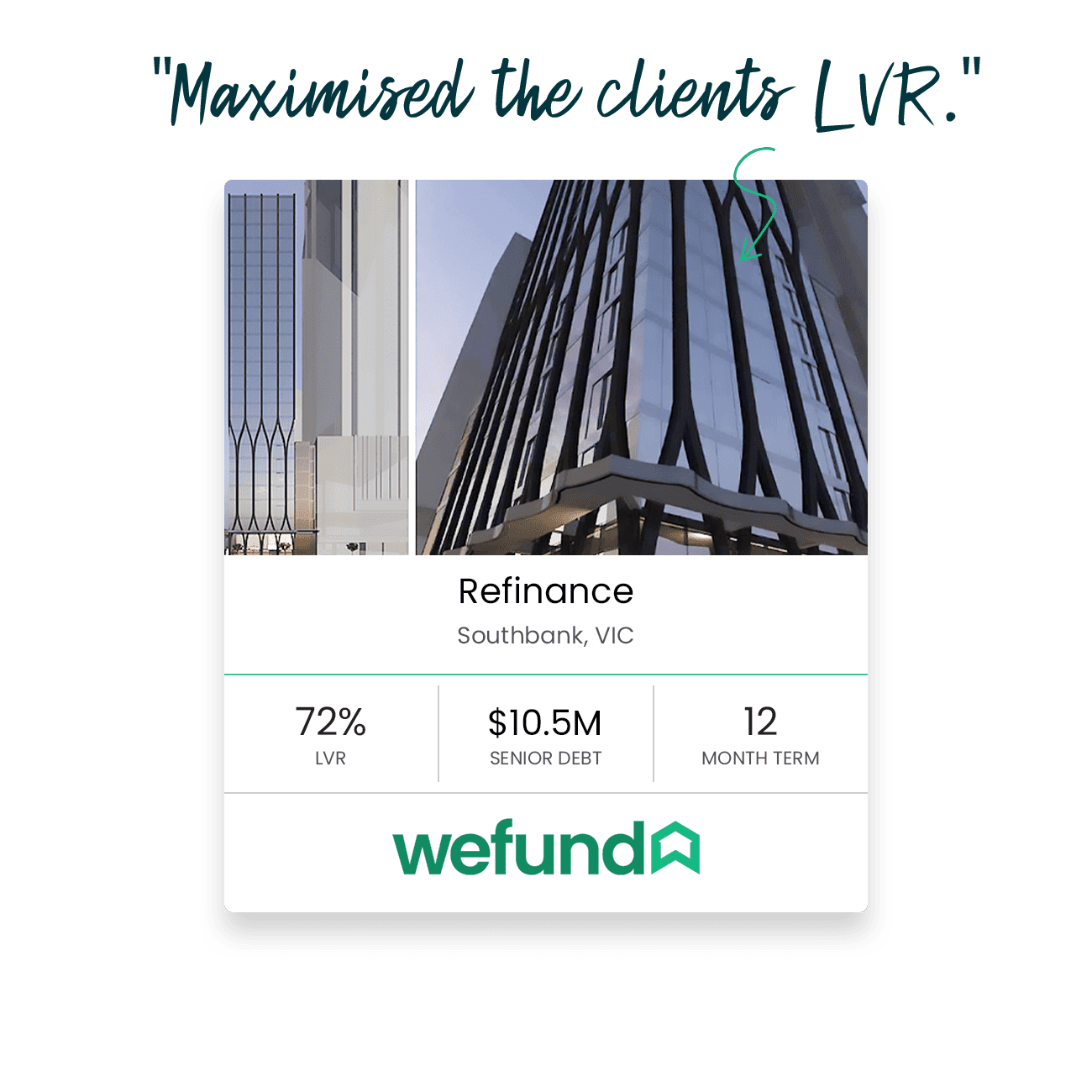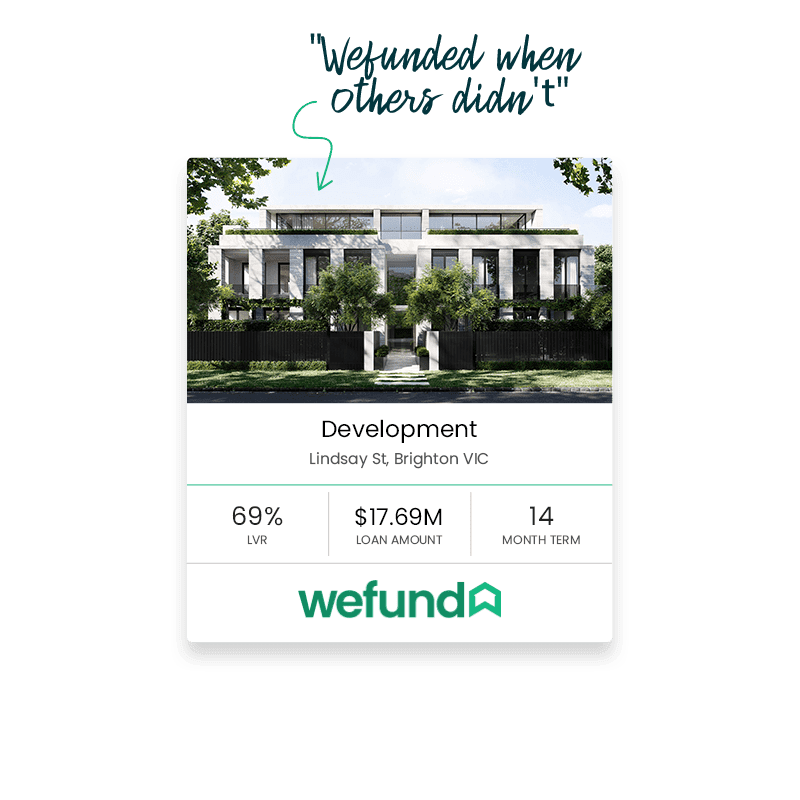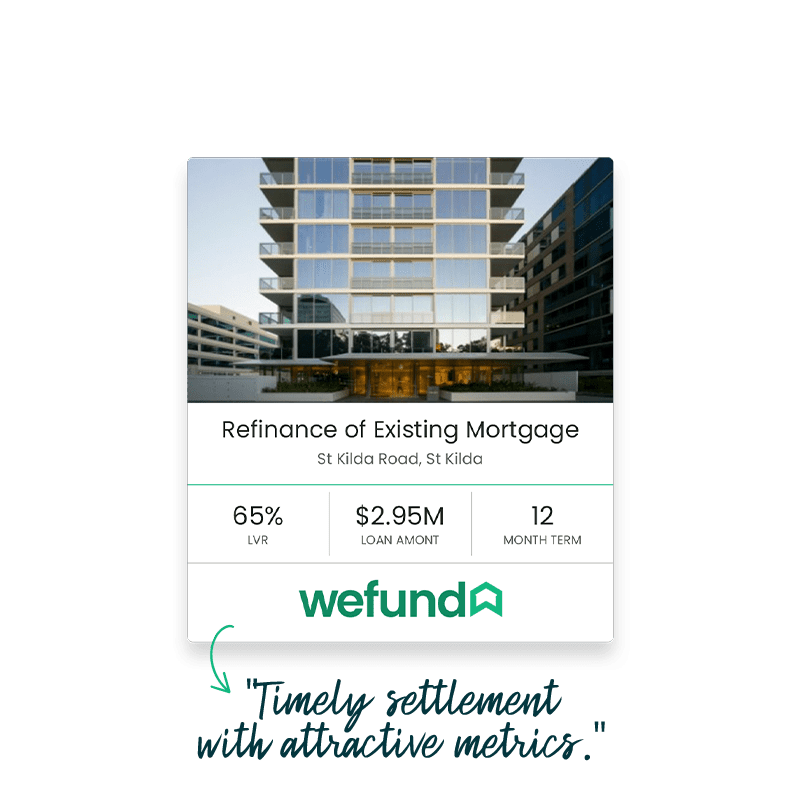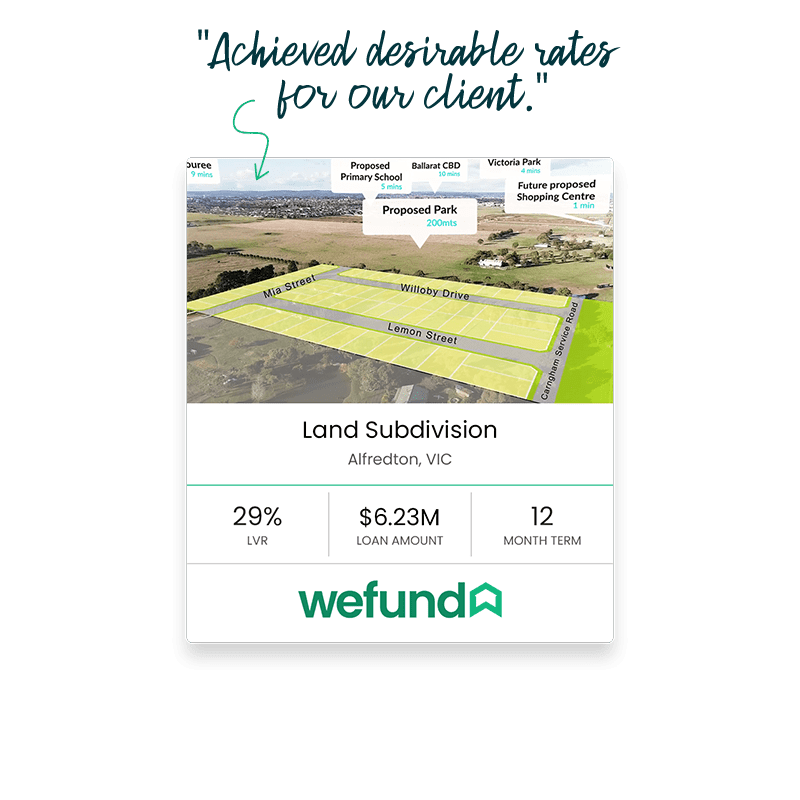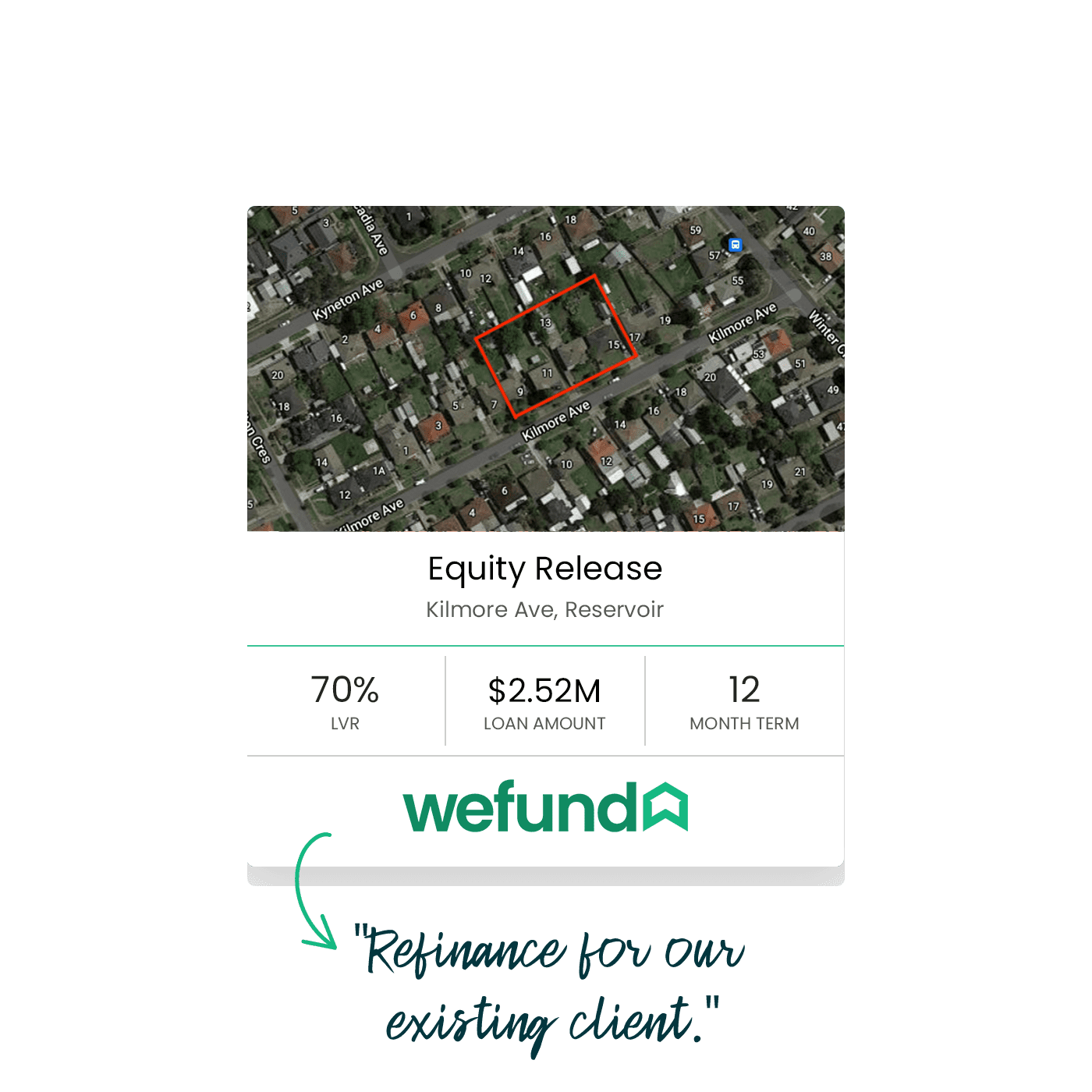 Trusted By Developers
Large And Small


I've been in this industry for a long time and have worked with many brokers, and you are the first who have delivered on your initial promise not only once but twice, you were also the first broker we were comfortable signing a mandate with."
Franco A Bevacqua - Director
Charles Lloyd Property Group


Wefund made the whole process easy for me to send through a deal and get great rates for my Clients. Wefund allowed me to focus on my core business while still adding value to my clients. I will be using them again."
Damien Roylance - MD
Entourage


Wefund achieved the most important action in finance; they delivered on what they said they could. There is a lot of talk in the construction finance industry and often the action does not match the talk. Wefund have a professional, sophisticated, results based approach, which is why I will continue to use them on my projects moving forward"
Malcolm Druce - Director
Channelland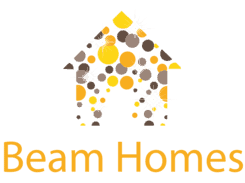 Wefund provided opportunity in the form of cooperation and support during the project. I am truly pleased with the outcome and appreciate the journey we had together. I hope to collaborate on more projects in the future."
Zaheer Rafiq
Beam Homes


The Wefund process was smooth from start to finish! The website is interactive, intuitive and the team responded promptly once we submitted.
Multiple finance offers were received and discussed in detail, ensuring the right terms were found for the project. The communication from all members of the team was exceptional and we settled quickly once conditions were satisfied.
The Wefund team had passion, knowledge and a genuine interest ensuring we achieved the best outcome."
Matthew Fogarty - Financial Controller
BPM Corp


Wefund understand a project more readily and easily so the funding options they present are right for the individual project. It's been a total game changer for us"
Robert Kissane - Commercial Manager
Yourland Developments
Get started in minutes (no credit checks involved) and we'll take care of everything else.
Submit your scenario
Submit a simple scenario online and let us know about your project.
Get the best terms
Our finance specialists will negotiate the best terms on the market with our panel of over 75 lenders.
We take care of the rest
We'll take care of valuations, QS, and everything else required to get your finance settled while you focus on your project.

Submit A Scenario And Receive
Indicative Rates.
Simply click the button below and tell us about your development project. The form will take 5 minutes and this will allow us to assess your development and come back to you with indicative rates and terms for funding your project.
Schedule a meeting
with our team